Tent City-Kutch ready with plans to keep Coronavirus at bay
Ahmedabad: The Tent City-Kutch, which is set to welcome guests from the auspicious occasion of Dhan Teras on November 12, has put in place foolproof protocols to ensure the safety of guests by keeling the Coronavirus at bay.
The safety protocols, covering the vehicles to ferry the guests, reception area at Bhuj, the entire Tent City at Dhordo near the White Rann of Kutch, the common areas, and others will be implemented throughout the duration of Tent City-Kutch, which will culminate on February 28.
"The safety protocols are already in place. They include new cleaning and disinfection procedures, increased focus on common areas, and adequate availability of hand sanitizers, face masks, and other protective equipment, and a team of well-trained professionals to ensure 100% compliance with the protocols. We have left no room for any error, and guests have no reason to be worried about getting an infection. In spite of the elaborate measures, it will be ensured that guests do not have to face any inconvenience," said Bhavik Sheth, Finance and Operation Manager, Lallooji & Sons.
Some of the measures that have been put in place include disinfection of the reception area at Bhuj on a regular basis, thermal screening of guests, compulsory use of masks and gloves by the staff, medical checkup of staff every fortnight, masks and sanitizers for guests, among others.
"The buses used to ferry guests will be disinfected before and after travel. Disposable headrests and seat covers will be used and replaced after every trip. Common touchpoints such as handles, doors, pathways will be thoroughly sanitized. Guests' luggage and amenities in common areas will also be disinfected thoroughly. Social distancing will also be ensured while travelling, and at all times throughout their stay," Sheth said further.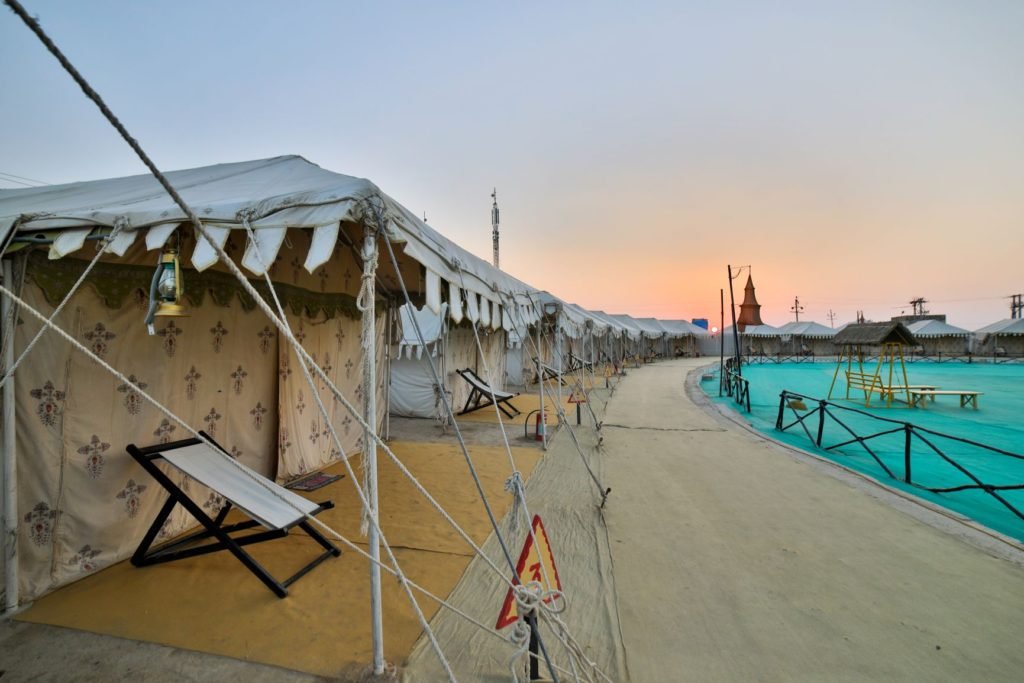 The Tent City-Kutch, which has 350 tents, offers a unique chance to visit one of the most beautiful and breath-taking locations in Gujarat – the White Rann of Kutch, which is spread over 7,500 sq. km and is one of the largest salt deserts in the world.
The Tent City-Kutch offers a number of affordable package options to choose from. Around 35,000 guests get a first-hand experience of the amazing hospitality of the Tent City-Kutch every year, while more than 5 lakh visitors from as many as 20 countries have visited the White Rann over the years.
Besides visiting the mesmerizing White Rann and experiencing the grandeur of the sunset in the salt desert, the Tent City-Kutch also offers an opportunity for guests to visit places such as the Kalo Dungar (Black Hill), other nearby historical monuments, and places off the usual tourist trail. The guests also get to attend folk dance and music programmes, to watch artisans at work, and buy unique handicrafts directly from them.